03-07-2018, 01:36 AM (This post was last modified: 07-08-2018, 23:34 PM by Navmesh. Edit Reason: How to get flags blues. )
Hello ExaySRO,
Maintenance done and server is online, start Silkroad.exe to get last patch and avoid problems with crash or missing content.
Info about today update:
* Dragon flags system added.
Buy Dimension hole from "Event NPC" in Shops area (just 13 golds)
Talk with NPC "Hunter Associate Ahmok" from Hotan
Choose quest Nr.9 "The Burning Abyss Collection"
Right click your Dimension Hole (Dragon Flag - Quest) and enter dungeon.
Collect all 8 Talismans and you will be able to get Dragon Flag (Male or Female at your choice)
Right click talismans to register them, after all 8 registered go back to NPC to receive your Flag.
To get stats on Flag, you need to teleport after receive it from NPC.
This is one time quest, one char can do it only once!!! (same like with D14 weapons)
P.S. Stats for flags will be in next update.
* Max Reborns increased to 50, all reborns are free now (1-50),
After 100 players reach 50 Reborns, we will increase max reborns to 60.
* Egy weapons and shields from "Item Mall and Egy" NPC will be +30 after you buy & teleport or relog.
* Fixed Devil Spirit at +10 now have same stats as Angel Spirit.
* All +20 scrolls from Inventory was converted in Immo D14 (tradeable)
* Removed all Letters but forgot to disable quest and drop, maybe tomorrow
Next NEW letters event will start in April at ExaySRO 5 years birthday.
* And most important update, removed Snowman storage from Samarkand xD * other things I don`t remember... and some things for next update.
Have fun!!!
//Navmesh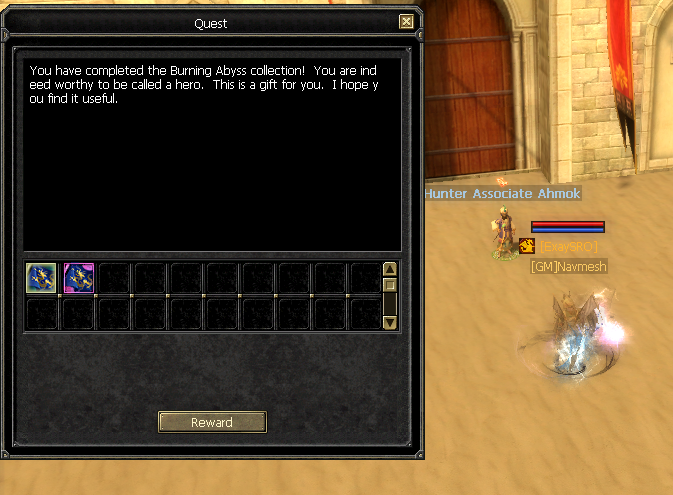 Admin email:
exaysro@gmail.com
Only this one is real and working.